RED BRIDGE is best described as a traditionally based bluegrass band that includes four lead vocalists, 3 & 4-part harmonies, strong instrumentals and lots of variety in song selection.

This group of entertainers provides high energy & high entertainment shows, which includes fun and natural humor. With their great musicianship, and most of all a strong variety of song selections from which to draw upon, the audience is kept constantly entertained and tappin' their feet!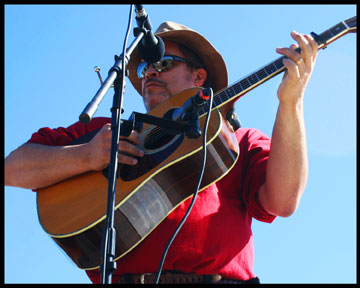 Larry Mayfield on guitar at the Rutledge Wilson Farms.



Mary Mayfield on bass.


Song selections range from hard-drivin' straight ahead bluegrass to ballads, bluegrass instrumentals, gospel, twin fiddlin', old time acoustic, and even original compositions about people and places in the Ozarks. Some of their bluegrass gospel selections have even been known to bring an emotional tear to listener's eyes. All these things together provide a show that audiences will remember for a long time. Red Bridge members love to interact with the audience, both during and after the show, and have made many long-term friendships as a result.

Come see Red Bridge, they're just a few hills & hollers away!






FALL UPDATES

It's been such a busy schedule this year that we quicky realized that keeping this website section updated with the lastest breaking news was nearly impossible, plus we were already doing that on Facebook. To get updates from Mary on our Facebook page click on the link below!





Note: Our goal on Facebook is to provide a fun & friendly place for positive socializing about music, events we support, related industry news, and to promote bluegrass and music in general. It is not intended as an opportunity to excessively promote other bands or events, send out spam messages, spam emails, spread negativity, or promote political or religous views, regardless of whether we agree with them or not. Any such posts will be removed if necessary. Thanks for your consideration of us and others in advance.

Check out our most current schedule on the right side of this page for more info!

Plus don't forget about Bluegrass Church "most"every Sunday evening at 6:00pm at the Ozark Highland Church on east Hwy 14 in Ozark, Mo. "Ya'll come back now, ya hear?" featuring the Pickin' Pastor from the Pulpit!" AND you even get to sing along with us, bluegrass style!

Hope to see you!

Larry & Mary Mayfield
Red Bridge
Creek's Arisin' Sound
417-840-2548
The band's namesake — historic Red Bridge crossing Bull Creek southeast of Ozark, Missouri — is a three-span pony truss bridge by the Canton Bridge Company of Canton, Ohio.

Eligible for the National Register of Historic Places, Red Bridge uses a three pin-connected, five-panel Pratt pony trusses design.

Red Bridge was built in 1915.